Strandhill gets its first 24hr accessible AED
In collaboration with the local community, Sligo Coast Guard, Go Strandhill and Strandhill Lodge and Suites, a brand new AED (automated external defibrillator) has been placed on the gable wall outside the entrance to the Strandhill Lodge and Suites. The AED was fully sponsored by Strandhill Lodge and Suites and is Strandhill's first 24 hour accessible AED.
Mick Tracy from Sligo Coast Guard and local paramedic John Garvey have begun training a network of first responders in the village. The first batch, a number of staff from the Venue Bar and Restaurant and Strandhill Lodge and Suites, were trained last week and it is hoped to have more volunteers educated over the coming months. Both residents and visitors are encouraged to familiarise themselves with the location of the lifesaving equipment should any emergency occur.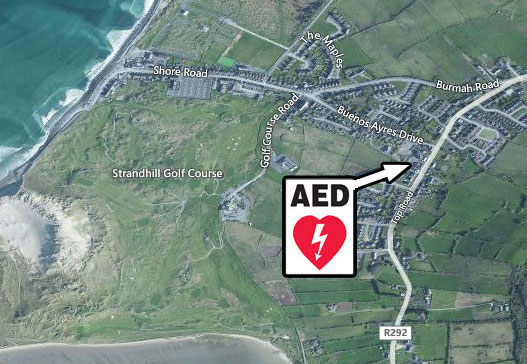 David McCoy from Strandhill Lodge and Suites said "The Lodge and Suites is delighted to be in a position to offer this service as our premises is manned 24/7, therefore it was the logical choice. We are delighted to give something back to the community which has helped us so much since we opened. All credit goes to the local coastguard unit for training people in the their own free time at no charge to the community, they truly are heroes in our midst."
Mick Tracy was also enthusiastic about the initiative, "the local community of Strandhill has been so good to the helicopter unit, especially in light of recent tragic events and how they rallied around the unit. I was delighted to help when contacted by John Garvey and Kieran Mulrooney. We hope to get as many trained up as possible, starting with the staff of the hotel and restaurant on the top road."
"This is a fantastic community initiative which shows what our village can do when it rallies together," added Kieran Mulrooney. "With the right training from John and his team, this will save lives in the future. We encourage as many of the local community to get in touch, learn more and get trained up."