Following the success of their outdoor production of Yeats Purgatory on the top of Knocknarea mountain in 2013, Blue Raincoat Theatre Company will perform Yeats's On Baile's Strand on Saturday July 12th at 1pm on Cummeen Strand, Strandhill, County Sligo.
King Concobar, aware of Cuchulain's bravery and his unruly temper, makes Cuchulainn swear an oath of obedience, forcing the unaware Cuchulain to fight and kill his own son. When informed of the truth, Cuchulainn, mad with despair, runs out to fight the sea.
Regarded as one of Yeats most accessible and dramatic plays this promises to be an exciting theatrical event presented outdoors on Cummeen Strand with Knocknarea mountain as it's backdrop. The cast includes Ciaran McCauley, John Carty, Sandra OMalley, Barry Cullen, Bob Kelly and Brian Devaney with music by Joe Hunt and direction by Niall Henry.
This outdoor performance of On Baile's Strand will be the company's second production this season and the only performance of its kind along the Wild Atlantic Way this summer.
Blue Raincoat will preform Malcolm Hamilton's Brief Taste of Lightening and a film of his play Sanctuary as part of Tread Softly…. Yeats Festival later in the Summer and Synge's masterpiece The Playboy of the Western World later in the Autumn.
No booking is required for this event. It will take place at 1pm sharp on Cummeen Strand, so please arrive by 12.45pm. Access is via the Strandhill Road (R292) taking the turn left for Coney Island on approach from Sligo Town.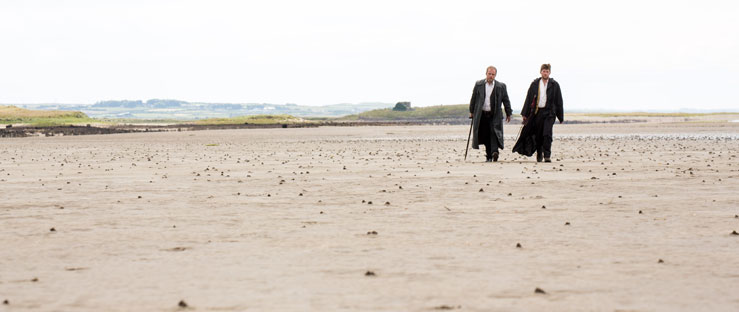 About Blue Raincoat
Blue Raincoat Theatre Company is Ireland's only full-time venue-based professional theatre ensemble. The company and performance space, The Factory, were founded in 1991. Blue Raincoat produce between four and six professional productions each year, with an emphasis on staging modern European classics, new writing and new adaptations for stage. The company employs a repertory system to tour each of these productions throughout Ireland and internationally.
Blue Raincoat provides a broad range of professional arts related support for community and cultural programming within their immediate region, including the annual theatre academy at The Factory in Sligo, where for three weeks 40 professional actors attend workshops on voice training and corporal mime. The company received two Irish Times Theatre Award nominations for their adaptation of Flann O'Brien's The Poor Mouth in 2012.
For further information, please visit www.blueraincoat.com