The Coolera or Cuíl Irra Peninsula is the half-promontory known as Leath Ros.
It has a long and very interesting history. A visitor only needs to look up to the summit of Knocknarea: the most prominent hill on the Coolera peninsula, to see evidence (in the form of a prehistoric cairn) of human civilisation dating back five thousand years. From the top of this dominant feature of the landscape you can see, on a clear day, a panorama of the counties of Sligo, Donegal, Derry, Fermanagh, Leitrim, Longford and Mayo, you can see Slieve League in Donegal – Ireland's highest sea cliff – and all the way to Croaghaun Mountain in Mayo.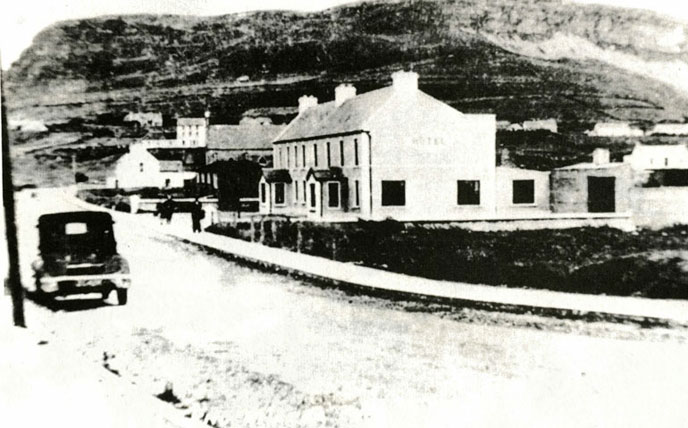 The rugged slopes of Ben Bulben, Ben Basgny, Ben Boe and Collooney collect most of the waters that flow into Sligo's Lough Gill. Out from Lough Gill flows the Garavogue River on which the gateway city of Sligo, only six miles from Strandhill, is built. West is the ocean vista and southwards beyond the Curlews stretches out the great plain of Connaught – Maghery. Nearly all the local placenames of Coolera are of Gaelic origin. The Irish place name for Strandhill is Larass or more properly Leath Ros: the half promontory. 
The other half of that promontory is Rosses Point on the north side of the Garavogue where two famous brothers, Jack and William Yeats, spent cherished childhood holidays. The Coolera area and Sligo in general were a major source of inspiration for the painting and poetry the Yeats brothers would be famous for producing when they were older. Rosses Point and Strandhill feature in their writings and artistic works along with other features of Sligo bay such as Carrowmore, Cummeen Strand, The Glen, Kilmacowen and Ben Bulben.
Cúil Irra is the Gaelic placename found in ancient documents for the area traversed using this time-cutting route across Sligo Bay and translates as the 'the remote angle'. Cúil Irra is a non-denominational placename passed down by popular usage designating the Cúil, or angle, bounded naturally by the sea in the west, Sligo harbour and the Garavogue river further north, Lough Gill in the east and Ballysadare Bay to the south. Today Coolera is understood to be the district included by the parishes of Killaspugbrón and Kilmacowen but in times past Coolera was considered to cover a much larger area.
source: Seamus McGoldrick