The Strandhill sands hold a hidden history; another older and original Strandhill lies buried by the shoreline.
The shifting sands and the ever blowing winds eventually covered the original settlements in Strandhill. At the beginning of the nineteenth century all the sand along the coastline from Ballysadare bay to Bundoran was in motion. The peak of the damage occurred between 1816 and 1835 when thousands of fertile acres were overwhelmed and cottages and settlements were inundated by sand. At that time, the village of Strandhill was situated along the seashore and when the shifting sands overcame their village, the inhabitants had to move up the slopes of Knocknarea with many re-establishing a village in the less sandy and more sheltered Bridgetown area of Strandhill.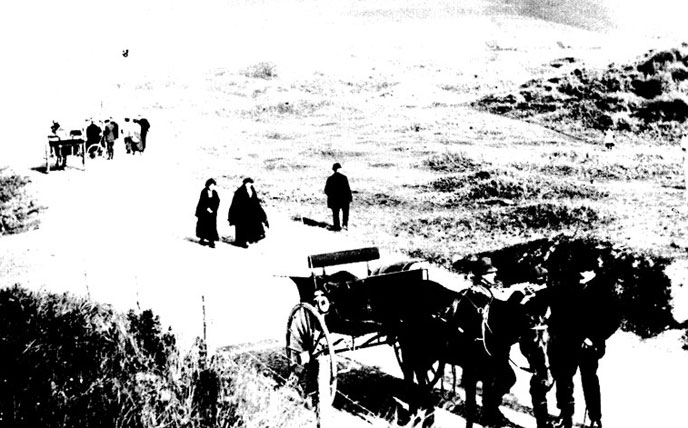 Lisheen is where the roofless ruin of the 23-roomed Lisheen mansion now stands mournfully by the seashore. It was once the seat of the Phibbs family who were among the most prominent landed gentry of County Sligo for two centuries. William Phibbs (1803-1881) inherited estates totalling a few thousand acres and was a man of considerable wealth. The local tradition was the house was haunted but this was strongly denied by the last surviving Coolera-born member of the family. Legends aside, William Phibbs was notorious for harsh treatment of tenants and stiff rents. As a famine landlord, he evicted 31 families from nearby Seafield and destroyed their mud cabins.
As late as the 1860s there were over half a million mud cabins in Ireland and about 90,000 of these cabins were single rooms occupied by on average eleven people, plus whatever animals they had. We are told the pigs were under the beds, the people in them and the poultry were in the rafters. A perfect example of a common stone cottage by the standards of the people of the West of Ireland in the nineteenth century is Dolly's cottage: the famous Strandhill cottage owned by the late Dolly Higgins who died in 1970.
William Parke operated the earliest recorded hotel on the top road of Carrowbunnaun in Strandhill in the closing decades of the nineteenth century. A March 1890 advertisement claimed the hotel was situated "in one of the best watering places in the West of Ireland facing the Altlantic where there is an increasing number of visitors each year". William Parkes' son, also William Parkes, built the Ocean View in Carrowbunnaun and ran it as a guest house. The Strandhill Hotel, forever a favourite local bar for the Strandhill residents, was opened in 1887 by Micheal Bree near the Knocknarea Hotel at the Bridge that was taken over very successfully by his son and daughter Sonny and Bridie Bree. 'The Venue' (formerly Coles) on the Top Road in Strandhill was founded in 1880 by Charles Cole and is reputedly the oldest surviving pub in the entire village.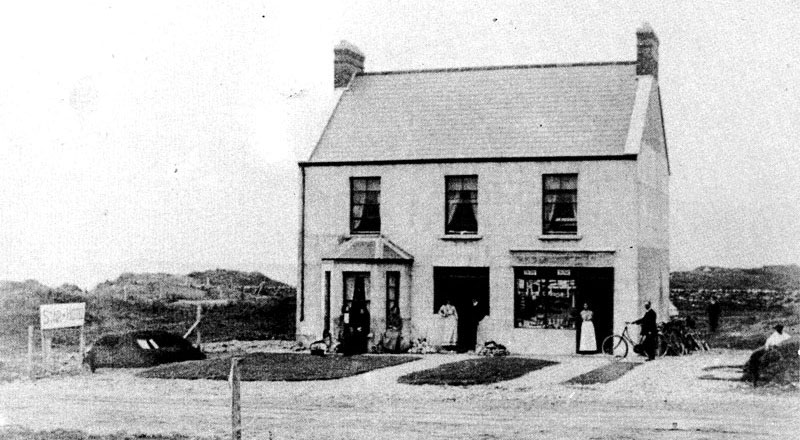 source: Seamus McGoldrick