Classic FIAT Ireland will host the Italian 100 event this year in Strandhill, over the weekend of the Saturday 29th – Sunday 30th August 2015. This coincides with the annual Classic FIAT weekend, with a scenic run and events on Saturday 29th, and the main show held in Strandhill on Sunday 30th.
Our "Targa Sligo" run will leave the Yeats County Hotel in Rosses Point at 10:30am on Saturday 29th. The drive will take scenic route through north county Sligo and parts of "Lovely Leitrim", taking in breathtaking scenery along the Wild Atlantic Way, as well as historical sites. Pre-registration for this drive is recommended, to ensure places for the lunch stop and our surprise destination! Please email to confirm: classicfiatireland@gmail.com.
Thanks to the support of Joe Corcoran, Sligo Airport General Manager, the grounds and terminal building will provide the venue for this year's show. The Italian 100 will be held between 11am – 4pm on Sunday 30th August.
Free entry, great prizes and fun for the family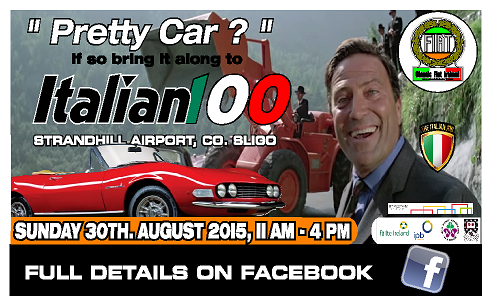 Entry to the show is FREE for both entrants and public alike. All entrants with Italian vehicles will receive a complimentary meal voucher and gift, thanks to our main sponsors Henderson Garage Door Systems, Abbey Foods Sligo & Kelly Fresh Foods Sligo. There will be prizes on the day for Car of Show, Best Original Irish Car and Further Travelled.
All entrants are asked to be in place before 11am.
This year's show will be in support of the Sligo Branch of the Irish Kidney Association. A raffle will be held, with members also accepting donations on the day. The show will be run alongside the popular Strandhill People's Market, which showcases local businesses and specialty food retailers, ensuring plenty of variety for those attending the main show. There will also be entertainment for younger members of the family, with three different sizes of Bouncy Castle.
Classic FIAT Ireland would like to extent a warm invitation to all Italian vehicle owners and enthusiasts alike, to join us at this year's Italian 100 event. This event is open to Italian vehicles of any make, model & age!
Helps us to break the 100 Italian Car target this year!!! Forza Italia!
This year, the following clubs will be in attendance:
Ferrari Owners Club of Ireland
The Maserati Club of Ireland
Alfa Romeo Owners Club – Irish Section
Lancia Motor Club of Ireland
Classic FIAT Ireland
Northern Ireland Italian Motor Club
X1/9 Owners Club – UK
Further details; www.classicfiatireland.com
Email on classicfiatireland@gmail.com
Follow on facebook at Sligo Italian 100