Pudding Row Café, nestled in the seaside village of Easkey, Co. Sligo, is set to reopen its doors for a new summer season from Thursday April 27th 2017.
After five years at the helm of the hugely successful Pepperpot Café in Dublin's Powerscourt Shopping Centre, Dervla James and husband Johny Conlon returned to Dervla's native Easkey in County Sligo in 2015, to set up their culinary dream Pudding Row Café.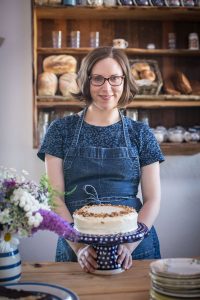 Since then, Pudding Row has gone from strength to strength garnering rave reviews from food critics and foodies alike, with tourists and locals flocking to the quaint seaside village of Easkey to visit the bustling café.
Commenting on the reopening, Dervla Conlon said: "We have had a tremendously busy two years at Pudding Row and recently added a new addition to our family, so extended our winter break. We return this April with a new energy for the Summer season alongside new menu options featuring the best in local and organic produce from across Ireland."
"This coming season's menu will be packed with plenty of Pudding Row favourites including the hugely popular homemade bagels and seasonal salads with homemade breads, pastry and luscious local produce taking centre stage, as well as new and exciting additions like fluffy ricotta pancakes with homemade coconut butter, lemon curd and local honey, homemade pittas with falafel, red cabbage and carrot slaw, spicy hummus and cucumber, tahini yoghurt."
Plenty of activites at the award-winning café
Pudding Row were awarded the prestigious accolade of 'Café of the Year' by the McKennas GUIDES at the start of 2016, and most recently, the café was selected for a second year in a row in the McKennas' Top 100 Best Restaurants in Ireland list.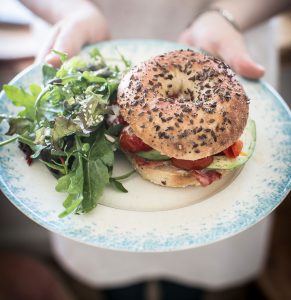 With a focus on cultivating and supporting the local community around Easkey, the café will host culinary events, live music gigs and markets throughout the year. The café's popular baking classes will return over summer with a focus on developing baking skills involved in making sweet breads, brioche, doughnuts and laminated doughs, as well as classes with guest tutors and masters in the art of sugar craft.
Dervla brings a wealth of creative culinary experience to Pudding Row; as well as being co-founder of The Pepper Pot in Dublin, she also holds a baking and pastry art degree from the National Bakery School of Ireland, in DIT.
Pudding Row is located in the seaside village of Easkey, County Sligo, a mere ten minutes from Ballina town, and about 30 minutes from Sligo; the village offers a wealth of activities including coastal walks, surfing, camping and fishing.
For more information, visit www.puddingrow.ie or follow the cafe's adventures on @PuddingRowSligo
Opening hours: From April 27th, Thursdays – Sundays, 11am – 5pm with extended hours over the summer to be announced.