An amazing weekend of international artists, MTV video makers, pro surfers, movies, tech and lots of other cool stuff
Fancy meeting some of the best big wave surfers in the world? Or hearing from Dorothy Cross, Ireland's most famous international artist, about her life, works and love of the sea?
You can also come along and tackle one of those monster Cliffs of Moher waves, courtesy of a VR headset, and enjoy a chilled chat with the acclaimed street artist James Earley, Ireland's answer to Banksy.
These are some of the highlights of Ireland's annual Surf Festival, Shore Shots, running in Sligo from April 22 – 23, celebrating the very best of Ireland's surfing culture, adventure, film, video, street art, tech and the Wild Atlantic Way.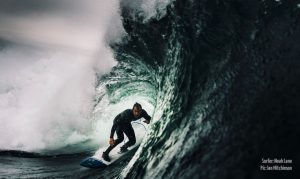 The festival, which is in its fifth year, will as usual showcase the latest and most dramatic movies made about surfing, from around the world. Many are cinematic in scope, capturing the drama and adventure of the sea and those who thrillingly ride the waves.
Festival Co-coordinator Allan Mulrooney is delighted with the event's growth, "Last year was the fourth year of the festival and the first year for Sligo. Our attendees experienced a weekend of culture, music, movies and talks and the feedback we received was fantastic. Shore Shots attendees wanted more and this year we've come back stronger. We've spent the past eight months curating some of the best surf movies from around the world for the big screen. Alongside these feature length movies we've got over 20 speakers, workshops, activities, art galleries and market stalls. We're planning for over 400 people to travel to Sligo and experience everything on offer from the mountains, lakes, surfing to the nightlife and food culture."
A special guest this year is big wave surfer Andrew Cotton, who has spent the past four years trying to find a 100-ft wave and break the world record.
There will be a special screening of the acclaimed 'Between Land and Sea' movie with a Q&A by pro surfer Ollie O'Flaherty. Directed by Ross Whitaker, the film beautifully documents a year in the life of the iconic Clare surf town of Lahinch.
Other guests include surfer and environmentalist Easkey Britton, French pro surfer William Aliotti and adventure photographer Lucia Griggi.
Shore Shots will also feature the best viral clips and footage captured along the Wild Atlantic Way over the past twelve months from the surfers who dedicate their lives to exploration and the cold-water lifestyle. The winner of this year's short will head to the Maldives courtesy of The Perfect Wave Surf Experience. Last year's winner was Chris Case from Fish Farm TV who scooped the top prize with 'Of Viking Minds'.
But you don't need to be a surfer to attend; the festival will this year celebrate all that is best about the Wild Atlantic Way with opportunities to take yoga classes, sample great local food, learn kayaking and go on specially organised hikes suitable for people of all abilities.
Acclaimed artist Dorothy Cross will be interviewed by journalist Jim Carroll at The Model, Sligo, the festival's 2017 base. Dorothy will talk about representing Ireland at the Venice Biennial and how the sea inspires her work.
Contemporary art will also be represented with street artist James Earley whose work has captured the imagination and inspired many others. James will be at Shore Shots to talk about his methods and inspiration.
Other festival highlights include:
Pro surfer Ollie O'Flaherty exhibiting an Oculus Rift 360-degree video project where users can surf the infamous Cliffs of Moher
Big wave surfer, environmentalist and adventurer Easkey Britton hosting a unique storytelling workshop
Musician David Kitt playing live on Sunday night and special guests throughout the weekend
Food blogger Finn Ni Fhaolain will be on hand to discuss her new book and Aoibheann O'Brien, founder and CEO of the Food Cloud initiative will speak about her work
Farmer, surfer and campaigner Matt Smith on his role in the Moy Hill Community Garden project
Photographer Ian Mitchinson will be exhibiting his work
Shore Shots is this year partnered by LookWest.ie and sponsored by Tullamore D.E.W. The world-famous distillery will be staging its D.E.W & a Brew sipping experience on a curated bar trail all over Sligo on April 23.
Tickets for the weekend are €60 and include access to all films, talks, music and interviews. **There is an additional charge for Easkey Britton's storytelling workshop and the adventure activities. More details and the full line-up can be found at shoreshots.ie