Following a hugely successful 2019 with record footfall, Strandhill People's Market in Co. Sligo re-opens Sunday 1st March. The market, which is housed in the unique setting of Hangar 1 at Sligo airport remained closed during January and February to allow traders time off and time to replenish stock.
Now entering its sixth trading year, the weekly event supports over 100 micro businesses from the region. These include a huge variety of textiles, fresh vegetables, cheese, local honey, craft, art and artisan food. With an average footfall of 1500 people every Sunday, it has now become one of the most successful markets in the country regularly gaining national media coverage for the quality of produce, the atmosphere and of course the hundreds of umbrella's hanging inside the Hangar.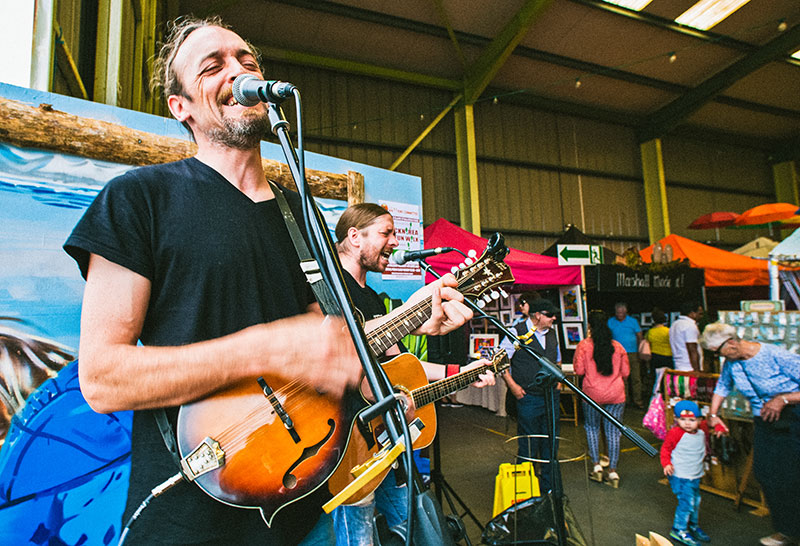 Sustainable Tourism
"The market has become part of the community here" said Allan Mulrooney, one of the organisers. "It's a meeting place for locals, a social outlet for the elderly and it also helps to deliver a sustainable tourism model during the shoulder and off season. It's also important to note that local businesses in Strandhill see a dramatic increase in spend on Sunday's when the market is in operation."
New stalls joining the market for March include 'Twisted Dough' run by Karol & Magdalena Kowalczyk who have just moved from Kildare to the North West for a better work life balance. They plan on selling fresh and handmade gnocchi, organic salads and organic smoothies. Twisted Dough will join over forty other stalls in Hangar 1 next Sunday, March 1st. The market has free parking and free entry every Sunday from 11am-4pm.
For further information or to arrange interviews, please contact strandhillmarket@gmail.com